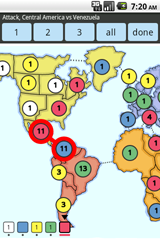 Landrule is an android adaption of the popular Risk board game, and more, it support multiplayer, also you can play against computer, or just you can put some computer player if not enough human player have the multiplayer game. If you like Risk, you will love this game, it is easy to use, the map is simple but nice. I got some problem with the ai, they mostly give points to one unit, and they attack circually each other in a place which have four territory, like in South America, Australia, and if nobody attack from outer territory, they will fight with each other forever.
Market description:
"Landrule is a turn-based strategy game for Android. Similar to Age of Conquest and Risk.
You can play in a single-player mode, or against others in online multiplayer mode.
New features on the way, making the classic Risk game more fun.
Maps include the classic Risk earth map, as well as a modified Antarctica map. More maps being designed now."
https://market.android.com/details?id=com.pixamark.landrule
It is a great game, almost everything is perfect, except some gliches with the ai.
Points: 9/10
More World Domination games at:
http://worldconquergames.blogspot.com/